Advertising
Varsity Guide to Careers 2019-2020
On October 20th 2019, Varsity is once again publishing the definitive guide to the best internships and graduate recruitment schemes available to Cambridge undergraduates. The publication will be directly distributed free to all 31 Cambridge colleges as well as all University faculties and departments.
Last year's edition was well received by students with 10,000 copies being distributed around all the colleges and departments of the University.
Cambridge is unusual in that the Student Union is not directly affiliated to the Careers Service of the University. Students often have to seek out careers information on their own, which can be a difficult and confusing task. This guide aims to remedy that problem. With editorial content about graduate life written by award-winning student journalists and profiles of the best internships and grad schemes available, this guide aims to be a comprehensive and invaluable handbook for all Cambridge students.
Sample Profile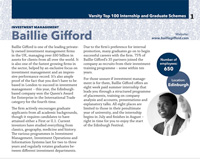 Varsity is now offering companies the exclusive chance to reach a wide market of over 20,000 of the brightest undergraduate minds for £200+VAT.
Each company profile contains information on internships and grad schemes, including company details and description, careers offered, location and starting salary. There is also an additional opportunity to advertise within the guide at a discounted price - see below.
The booking deadline for inclusion in this publication is October 10th 2019, with slots available on a strictly limited basis.
Advert Package
Dimensions (mm)
Cost
Company Profile
n/a
£200
Company Profile + Quarter Page Advert
67.5w x 107.55h
£300
Company Profile + Half Page Advert
155w x 107.5h
£400
Company Profile + Full Page Advert
175w x 255h
£500
Company Profile + Inside Back Cover Advert
175w x 255h
£700
Company Profile + Inside Front Cover Advert
175w x 255h
£800
Company Profile + Outside Back Cover Advert
175w x 255h
£1100

5mm bleed required on all sides.
All prices exclude VAT which will be added at the rate in force at the time of publication.